When was the last time you saw ants reach an obstacle and give up with their heads down and head back to the ant hole to relax? Never.
If ants are headed somewhere and you try to stop them, they'll look for another way; they'll climb over, they'll climb under and they'll climb around; they will keep looking for another way. This is exactly what I did for my sellers at 321 Topsail Court in Foster City; I found another way!
In February 2020, I was hired by a family living in Hong Kong to have my Team renovate and sell their Foster City home. They had been living in Hong Kong for several years and had finally made the decision to stay there permanently.
After nearly 1 month of work, the house was finally ready for staging and going on the market. At that time, the Real Estate market was very strong, so I knew that the home would sell quickly.
Hurdle #1) The property was staged on March 16th and the Very next day, the Shelter-in-Place/Lock-Down order went into effect, making it basically Illegal to bring a buyer into a For Sale property.
Fortunately, on March 31st, Real Estate was designated an essential service and Realtors were now allowed to start showing "vacant homes only," with strict requirements. A small number of agents started bringing their buyers through the property, so we were optimistic.
10 days after the showings started again, we received our first "decent" offer. It was over the asking price but not really as much as the sellers wanted. Knowing that "very" few homes were available for sale in Foster City, mortgage interest rates were at all-time lows, and the buyers were highly motivated, we
counteroffered at the Seller's target price ($1,725,000), and the buyers accepted it.
As soon as the offer was accepted, I instructed the Sellers to make an appointment with the Notary at the US Consulate in Hong Kong to sign the final closing documents for the sale of their home. Appointments at Consulates are typically booked 2 to 3 weeks out, so I wanted to be sure that they could get an appointment prior to the end of their 30-day close of escrow.
Hurdle #2) After trying to contact the US Consulate in Hong Kong, the Sellers received the following message ""US Consulate in HONG KONG has suspended all Notarial services due to COVID-19". NO problem…The Sellers would just fly from Hong Kong back to San Francisco for the signing.
Hurdle #3) COVID-19 travel restrictions had been imposed between the US and Hong Kong, so the sellers could not fly back.
I was not aware of any other options, so I contacted our escrow officer to find out if there was another way to work around this. Someone had to have experienced this before.
After some research, our escrow officer learned that Hong Kong was a member of the Hague Convention. Under that Convention, a "Hague Apostille" could substitute for a Notarization. "It is an international certification comparable to a notarization in domestic law, and normally supplements a local notarization of the document".  With our escrow officer's assistance, the Sellers were able to make an appointment with a Hong Kong Apostille service to sign and stamp their closing documents. The closing documents were then FedEx'd back to the title/escrow company in California in time for a successful close of escrow!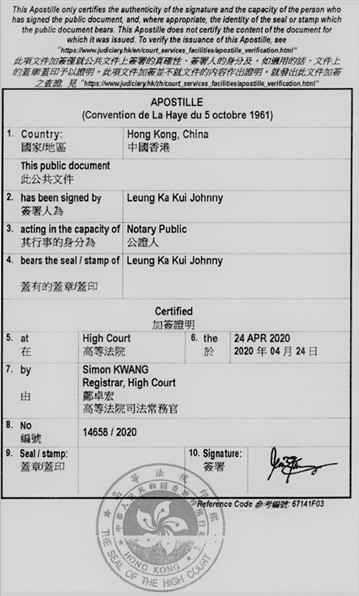 Apostille is also a French word which means a certification. It is commonly used to refer to the legalization of a document for international use under the terms of the 1961 Hague Convention Abolishing The Requirement of Legalization for Foreign Public Documents. 
To learn more about Hauge Apostille, Wikipedia https://en.wikipedia.org/wiki/Apostille_Convention)
Here is the appreciative email that I received from the Sellers after their closing
Hi Chris, I write to thank you for making my home sale possible during this critical time of the pandemic. Peter's strong recommendation to have you as our realty agent proves solid and sound. Your expertise and foresight have made this home sale a success. Thank you again.

Daniel and Pokin
This is much more than a normal real estate market. You need an expert who understands how COVID-19 is impacting the thoughts and actions of the consumer (ex: virtual showings, proper safety protocols, e-signing documents). You need someone who can simply and effectively explain the changes in today's process to you and your family. You need an expert who will guarantee you make the right decision, especially in these challenging times.
Hiring an agent who understands how the pandemic is reshaping the real estate processes is crucial right now. Let's connect today to guarantee your journey is a safe and successful one.