Perfectly situated in the middle of everything
San Mateo is the perfect balance of big city and bedroom community.
The result: a great place to live.
Located between San Francisco and San Jose in California, San Mateo is a coastal city that houses nearly 100,000+ residents. Though it began as a suburb of San Francisco, San Mateo has grown into one of the most affluent communities in the Bay Area and is currently a bustling metro on its own.  Live close to the action without paying high San Francisco prices!  San Mateo offers a diverse dining scene featuring Asian, Middle Eastern, Latin, European, Classic American and fusion cuisines.  In fact, it was named "the best small town for town for food"!
With the famous Silicon Valley to the South and San Francisco to the north, there are plenty of attractions and things to do on the mid-peninsula. The mild year-round weather makes it easy for residents to explore everything that the mid-peninsula has to offer. Lots of sunshine even during the winter!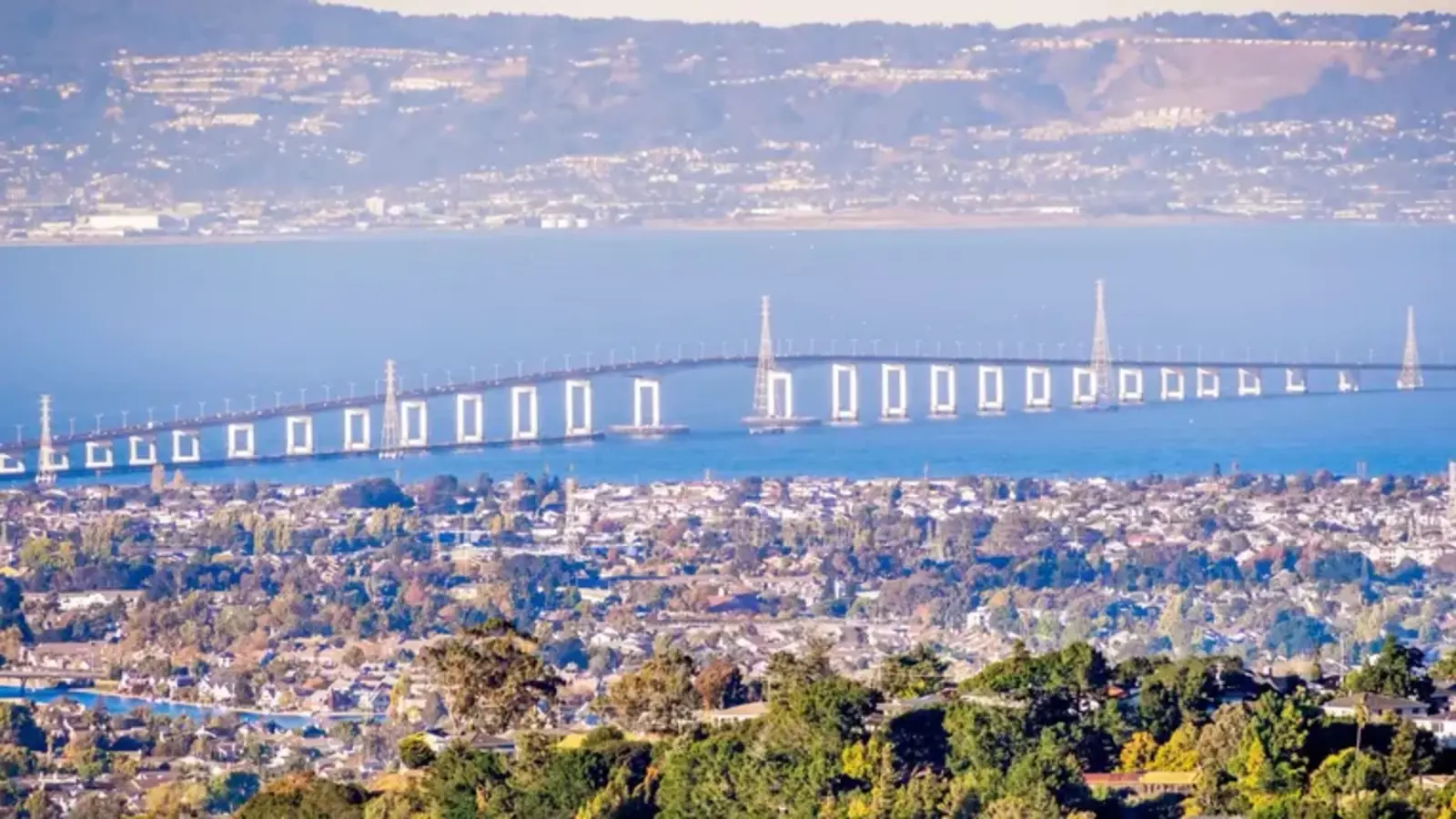 Resting 20 miles south of San Francisco, San Mateo is a diverse and lively city that is in proximity to big name employers like Google, Visa, Oracle,Survey Monkey and Facebook (Meta).  San Mateo opens the door to abundant opportunities, whether that's working for a tech giant or growing your business from scratch. Many startups can be found percolating in downtown.  The landmark Benjamin Franklin Hotel is now the home of Draper University, a school for would-be tech entrepreneurs. San Mateo has long been a bedroom community for tech hubs to the north and south. But in recent years, it's built a niche for itself as a player in the tech start-up arena.  The owner of 3 Bees Coffee said it best "It has the feeling of a small town," he says, "but it's a big downtown." He knows as his coffee house is a social hub for many of the town's movers and shakers plus the coffee is great!
Homes for Sale in the City of San Mateo
Highlights of living in San Mateo
An award-winning dining destination, Downtown San Mateo is a walkable urban neighborhood in the heart of the Peninsula. Start-ups hum in historic buildings, culinary adventures around every corner, and run all your errands in just a few blocks. With a diverse business mix and a thriving restaurant scene, there's a lot of fun and networking to be had. 
The Weather: mild weather and great temperatures year-round
Outdoor space
Central Park: 16 acres of fun with annual community events, e.g., Music in the Park, San Mateo on Ice, Japanese and Rose Gardens, baseball field and tennis courts.
Sawyer Camp Trail: paved 11+ mile trail along the shoreline of lower Crystal Springs reservoir with beautiful views of the water. Enjoy walking, biking running or sitting on one of the many benches along the trail.  Well maintained restrooms along the way too.
Seal Point: A multitude of pathways for walking, cycling, bird watching along the bay, park, picnic tables, playground and a 3-acre dog park.
Proximity and Convenience: proximity to San Francisco and San Jose by car or Caltrain. Take Bart for your travels to the East Bay and San Francisco. Jump on Hwy-92 going West and enjoy a day at the beach in Half Moon Bay and the downtown is darling! Take HWY-280 south to HWY-17 for day at the Santa Cruz beach boardwalk or keeping driving south on HWY-1 and go to Carmel.
The Best downtown: Diverse cuisine, startups, fitness studios, employers, Central Park, and gorgeous library.
Hillsdale Shopping Center Social centerpiece with open plaza, Cinepolis (luxury theatre), Pinstripes a delicious time with Italian/American cuisine with outdoor seating and bocce and bowling for fun
Top rated schools
Hayward Park: Craftsman style homes with front porches and Downtown proximity
To view the Hayward Park neighborhood, click here.
MLS area is 419
Parkside: Waterfront neighborhood with pretty views of Marina lagoon
To view the Parkside neighborhood, click here. 
MLS area is 413
Shoreview: Affordable single-family homes, convenient and close to the bay trails. 
To view the Shoreview neighborhood, click here. 
MLS area is 414
Sunnybrae/19th Ave Park: Centrally located and proximity to downtown
To view the Sunnybrae neighborhood, click here.
MLS area is 418
Los Prados: Waterfront neighborhood on the south-eastern border
To view the Los Prados neighborhood, click here.
MLS area is 422
Edgewater Isle: Condominiums with views of the Marina lagoon
To view the Edgewater Isle neighborhood, click here.
MLS area is 411
Eastern Addition: Urban living with collection of romantic bungalow homes and condos and centrally located between both downtowns: San Mateo and Burlingame
To view the Eastern Addition neighborhood, click here.
MLS area is 417
Fiesta Gardens:  Unique community of ~500 homes feature a pool, cabana, tennis courts and two parks. Fiesta Gardens has "legendary" HOA and it is next to Bay Meadows
To view the Fiesta Gardens neighborhood, click here.
MLS area is 420
Bay Meadows: Charming urban-village. Bay Meadows was once the Bay Meadows Racetrack, the longest-running thoroughbred horse racing track in California. Today, it is filled with fabulous single-family homes, town homes and apartments.  Big name employers reside at Bay Meadows such as Survey Monkey, Upstart. Guidewire, OpenText, Guideline, Workday, Fretworks, Snowflake, Zuora.  Whole Foods market, Field Works Brewery with beer garden and Blue Bottle Coffee are just some of dining and shopping you will find here and more will be coming soon.  So much outdoor space to enjoy! 18 acres of parks, cozy landscaped nooks, biking trails, bocce ball, hoops, playgrounds, farmers market and town square with the "Mirror Labyrinth NY – for California" are all a part of this special place. Nueva School is an independent PreK–12 school where gifted learners discover and develop their passions and learn to make choices that positively and profoundly impact the world. Caltrain station
To view the Bay Meadows neighborhood, click here.
MLS area is 417
Beresford Manor: Growing neighborhood close to Baywood and Aragon
To view the Beresford Manor neighborhood, click here.
MLS area is 427
Baywood: Highly sought-after and prestigious neighborhood with Baywood elementary
Street names like Harvard, Notre Dame and Georgetown
To view the Baywood neighborhood, click here.
MLS area is 432
Aragon: Highly desirable and sought-after neighborhood that checks off all your boxes including walkability to Central Park, San Mateo Library and San Mateo's vivacious downtown.
To view the Aragon neighborhood,  click here.
MLS area is 436
Homestead: This neighborhood is great alternative to Aragon while offering many of the same perks and for a more reasonable price.  Vintage homes on tree-lined streets, Downtown proximity, and access to Baywood Elementary.
To view the Homestead neighborhood, click here.
MLS area is 435
Laurelwood/Sugarloaf:  One of the most beautiful and serene neighborhoods on the Peninsula with beautiful views.
To view the Eastern Addition neighborhood, click here.
MLS area is 430
Westwood Knolls: has some of the best views in San Mateo
To view the Westwood Knolls neighborhood, click here.
MLS area is 425
San Mateo Knolls: Hilly neighborhood with curvy streets and gorgeous views
To view the San Mateo Knolls neighborhood, click here.
MLS area is 429
Lauriedale: Features cozy homes that are very high value. This community dates back to 1965 and has continued to develop over the years. Condos and apartments make up most of this neighborhood.
To view the Lauriedale neighborhood, click here.
MLS area is 424

San Mateo Terrace/Beresford:  Popular neighborhood in San Mateo's west side close to Hillsdale shopping center and Beresford Park.
To view the San Mateo Terrace/Beresford neighborhood, click here.  MLS area is 428

San Mateo Park: Most exclusive neighborhood in San Mateo with oversized lots bordering Hillsborough and Burlingame (downtown "The Ave")
To view the San Mateo Park neighborhood, click here.
MLS area is 439
San Mateo Village:  Most sought-after and popular neighborhood for "starter" home or downsizing. A tale of two parks. Casanova and Laurel Creek Park separated by a creek with a pedestrian/bicycle bridge to connect them.
To view the San Mateo Village neighborhood, click here.
MLS area is 423