If you are looking for the best streets for Christmas lights in the Bay Area along with some exciting suggestions for additional holiday fun, you've come to the right place! Check out these favorite twinkling locations while you're out exploring the area and spreading holiday cheer.
Fantasy of Lights Drive-Thru
What could be better than seeing the beautiful, twinkling lights from the comfort of your own vehicle? The Santa Clara County Department of Parks and Recreation has pulled out all the stops when it comes to holiday lights for the 20th year in a row!

Vasona County Park is located at 333 Blossom Hill Road in Los Gatos within the 95032 zip code area. You can see the Fantasy of Lights display from December 4 – December 30 from 6 PM – 10 PM, but you should note that the display is not open December 25th.
There is an admission fee per car, depending on the size and capacity of the vehicle, but you can expect to pay around $20 for vehicles up to 12 people and around $50 for vehicles that hold 13 or more people. Tickets can be purchased online here, or you can call 408-355-2201 for more information.
Palo Alto's Christmas Tree Lane
This time-honored tradition began Christmas of 1940 when Judge Edward E. Hardy and his neighbors decided to make the season brighter by decorating trees along Fulton Street. You can experience this amazing sight from December 15 – December 31 from 5 PM – 11 PM.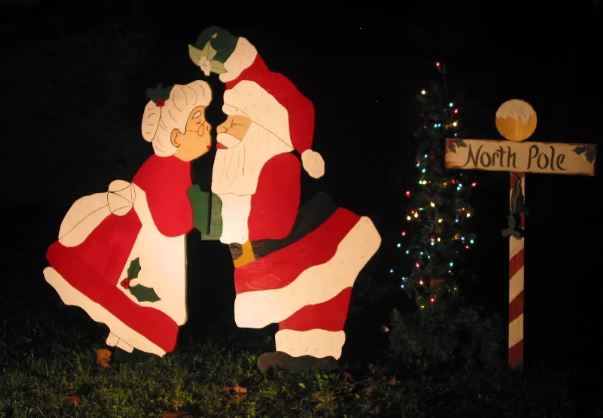 It's suggested that you navigate your way to Christmas Tree Lane by using the address for 1705 Fulton Street in Palo Alto within the 94303 zip code area as a guide. You may want to park your vehicle on a neighboring street and stroll along the lane to maximize the holiday experience, but you can drive slowly (with lights set to park) down the street if you prefer to stay in your car.
What started as a neighborhood effort to line the street with Christmas trees has evolved into a festive occasion with homes and yards being decorated with lights, blow-ups, cut outs, and more! Remember to be careful when driving through the neighborhood because many people are walking.
Eucalyptus Avenue
Prepare to be enchanted, enthralled, and excited as you venture down Eucalyptus Avenue to see one of the most talked about lights displays in the area. They light things up from December 1 – December 25.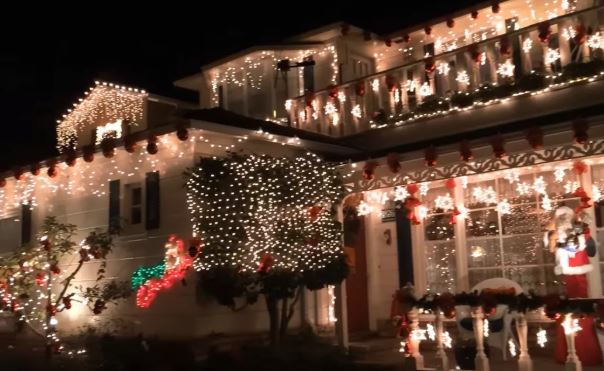 Located between Orange Avenue and Tamarack Avenue is San Carlos, this neighborhood is in the 94070 zip code area. Keep in mind that the road is blocked in the north direction but finding a parking spot a couple blocks away and walking around the area is one of the best (and easiest) ways to explore and see everything.
There's a lot, and we mean A LOT, to see here, so come ready to take your time and enjoy the complete experience. There are some wonderful photo opportunities along the way, so have your camera ready!
Holiday Nights & Sights Tour
Want to let someone else take the wheel and drive so you can enjoy a hassle-free holiday lights experience? See San Francisco the way it should be seen this time of year from November 23 – December 30 at 6 PM or 8 PM but note that rides are not available on the 8th, 15th, 25th, and 31st of December.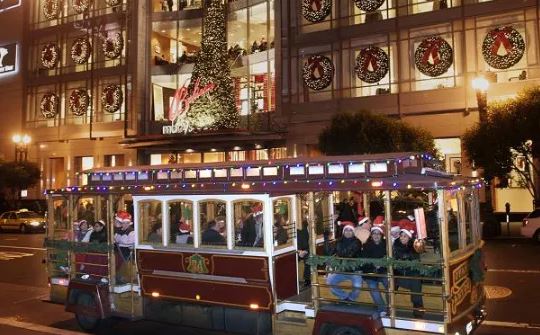 You can meet the classic cable car for your Holiday Nights & Sights Tour at 2766 Taylor Street in San Francisco within the 94133 zip code area. To book your tour and get more information, call 844-922-2532.
Illuminate SF Festival of Light
What happens when you bring together 17 neighborhoods, 30 artists, and 37 light installations? You get one of the most creative light displays in the San Francisco area from Thanksgiving through New Year's Day.
The Illuminate SF Festival of Light combines the brilliance of light with the creative creations of local artists. You'll want to check the citywide list of locations that comes with a map to make sure you don't miss a single location.
Billy Jones Wildcat Railroad Holiday Train
Wrap up to stay warm and hop on this open-air train for a 1.5-mile loop through the Vasona Park's light display. Train rides are available Thursday – Saturday during the month of December from 6 PM – 9 PM.
You can catch the Wildcat Railroad Holiday Train at 233 Blossom Hill Road in Los Gatos within the 95032 zip code area. There is a small fee of around $6 for the train ride, per person, but those under 3 years of age may ride without cost with a paying adult.
Alameda's Christmas Tree Lane
I can personally vouch for the AMAZING experience to be had when visiting this stunning light display in Alameda because I go every year! You can see the lights, enjoy the festive atmosphere, get a photo with Santa, and place your Christmas wish list in Santa's mailbox.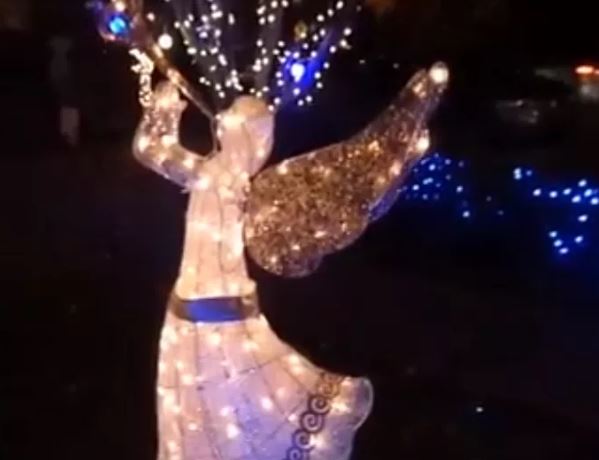 Our tips for this lighting event are to visit during the week when things are less busy, park nearby and walk through if that is possible, and take your time so that you see everything. They light things up each night from 5:30 PM – 10 PM.
There are vendors in the area that sell popcorn, glowing lights, and hot cocoa. Each home has a unique way of representing the homeowner and the things they feel are special about the holiday season.
Homes with Holiday Lights
411 Topaz Street in Redwood city within the 94062 zip code area is where you'll find a light display that grows with each year. The 28,000 LED lights glimmer and dance to 15 different songs each night from 5:30 PM – 10:30 PM until New Year's Day.
752 Valota Road in Redwood City within the 94061 zip code area features a 20 foot tall mega tree and a fireworks show. You may even hear the tree singing!
Want to Add a Location?
We would love to add your holiday lighted home, favorite neighborhood, or community light display to our list of must-see places to visit in the Bay Area. Contact us with the address and some information about the decorations, and we'll get you added to the list!